Spain has great all-year-round weather. Some areas can get really hot in the summer, but you can always find a part of the country that has great weather during a particular season. Spring and fall are moderate and very pleasant. There are also fewer crowds compared to the summer. If you decide to come to Spain in the summer, you may want to visit northern areas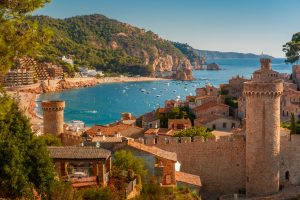 where temperatures are not as hot as in the south.
In the spring the temperature ranges between 60F and 75F. The best regions of the country to visit in the spring are its central regions, Andalusia and the cost of the Mediterranean. The weather in the north of the country can be somewhat rainy. Andalusia has a lot of very popular spring festivals that typically drive accommodation prices up significantly.
The northern part of Spain gets a lot of rain in both winter and spring, but it is a great place to visit in the summer. The temperatures stay around 70F.
This is not the case for places like Madrid and Andalusia that get extremely hot with temperatures reaching 100F and above. The temperatures in Barcelona in the summer average
about 85F, but it gets very humid and uncomfortable.
About 90% of the residents of the country go on vacation in August, which is why during this month many businesses are closed.
Fall is a great time to visit because the crowds thin out and temperatures range from about 40F in the mountains to 80F in the southern parts of the country.
Winter is great if you want a mild climate of the south or if you enjoy snow sports in the mountains.
Many areas of the country get a lot of tourists during their busy seasons. This makes them both crowded and expensive. If you are traveling on a budget, your best bet
is to visit the country in the early spring or late fall. You will get a lower rate at the hotels and your experience will be easier, from getting reservations in restaurants, to enjoying museums to traveling on the highways without having to deal with a lot of traffic.
Generally speaking, prices in Spain are lowest from November to February and highest in the last two months of the summer. Summer is when a lot of Europeans rush to the beaches, making beach resorts extremely crowded.
If you are looking to avoid crowds, you also do not want to go to Spain during Easter week. Many of the museums and other places of interest are closed during Easter and Christmas.
In addition to seasons, there are also dates that you should know about the areas that you are visiting. These dates include patron saint's feast day for the cities in towns. On this day there would usually be a festival or celebration and many banks and other places of interest may be closed.